Dear Gnome: Please listen to your users
// August 8th, 2011 // Free Software
Regressions in Gnome 3 from Gnome 2
Keep in mind: much of what I mention the below is done on purpose by design by the Gnome project, and aren't necessarily bugs per se.
When Gnome 3 was released I pretty much immediately took the plunge and upgraded to it. I initially used the default Gnome Shell for a bit. There were some really big regressions right away. You can't change your fonts, icon theme, GTK theme… I found a tool called gnome-tweak-tool that does allow changing those things, but I find it annoying that I can't do it via the default system-settings tool.
Then there's the screensaver. It just shows a black screen without showing any fancy interesting things on it. Personally I don't care all that much, but the typical user really values being able to customize their systems. With pretty much every deployment I work with I have clients asking me if they can have their company logo (or something similar) show on the screensaver. Now I have to tell them that I'd have to charge them extra for that because Gnome doesn't think that people should be able to use their computers the way they want it to.
Then there's the power settings. Why can't I choose what my laptop does when I close the lid? In Gnome shell I can't choose where my clock will be. I can't even choose where my system notifications will be. To make it worse it's in a place that requires me to move my mouse to a specific corner that is way out of my way, and once I do that I have to carefully move my pointer over the applets because they change position. I'll stop about Gnome shell now otherwise I'll go on about it all day long.
Gnome 3 Fallback Mode
Gnome 3 fallback mode offers some consolation. It gives me a familiar and much more usable desktop than Gnome shell. It's much better with multiple displays and also larger displays. I can still choose what window manager I want to use (although I've noticed when I use compiz then alt+right-click doesn't work anymore when I want to customize my panels). Sadly, it's not really the complete old Gnome desktop, it has the same problems as listed above. Some Gnome upstream projects also simply don't work anymore. Pessulus, Sabayon and Nanny are currently broken. I know it's open source and I could just fix it myself (that's probably going to be a whole blog entry on its own), but I don't have the time maintain that on top of what I'm currently doing. It *SADDENS* me that we'll have to drop all three tools from Edubuntu 11.10 if we can't fix it in time (to be honest I don't think anyone else cares, apologies if I sound like a cynical asshole). Then there's the migration from gconf to dconf/gsettings. I understand the benefits but it just happened too soon. Dconf is weird, complicated and badly documented. Try doing something like just setting a default position for an icon on a desktop for gsettings for multiple users. I dare you! This used to be something simple that we could take for granted before.
Then there's the printing configuration!?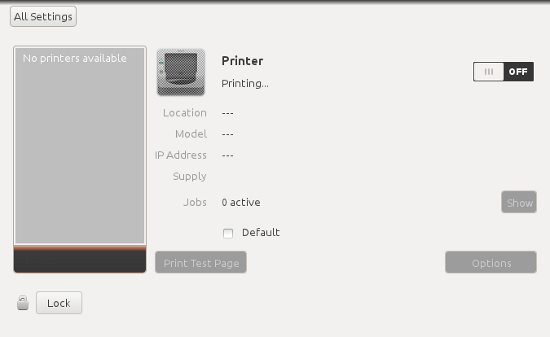 None of those buttons work! Well, the on/off button switches but makes no difference. And I can lock/unlock it. Besides that all it does is sit there and thinks it's printing to no printers that are available. Oh, about that On/Off switches. It's confusing to some users! Is it "Off" when it shows "Off"? Or will it be "Off" when I click on "Off"? (I know the answer to this, but I know a significant number of users who struggles with it).
Gnome system settings is really weird. There's a keyboard (…dare I call it snap-in) module), but if I want to choose my keyboard type I have to do it under Region and Languages. There are seperate modules for "Displays" and "Screen". How would a user know under which one the particular display setting their looking for will be?
Sorry…
Sorry for the rant, I love the Gnome project and the Gnome 2 series delivered exceptionally good software. I realise that some things in Gnome 3 will get better, but the problem is that so many things are bad on a design level already. Gnome Shell for example will never work well on LTSP because it's not possible to run a local window manager (if you have a gigabit connection to a thin client, it will use 25MB/s just to move a window arround, running compiz or metacity locally uses *nothing*). Eek, I think I started doing it again, I digress.
What I'm asking from Gnome is, please listen to your users. They're not as dumb as you think.
I'm sure someone will probably jump up in defense and defend some of the decisions that Gnome has made. I think it's great that Gnome is trying some new and experimental things but at what cost? Also, at some point you kind of have to admit that you made a mistake and move on instead of relentlessly sticking to your principals.
Screw principles. Use science, it works!
24 Responses to "Dear Gnome: Please listen to your users"
Leave a Reply