What is dented!?
Recently, when I run into people I haven't seen in a while, the number one question I'm asked is "What is dented!?"
I then wonder for just a split second what they mean and then I realise they've seen it on my Facebook statusses:

Before I can explain what "dented" means, I should explain the concept of Microblogging. Twitter is probably the most biggest and most widely known microblogging service. The idea is that people post short status updates (140 characters or less) called "tweets". When millions of users post their tweets, it starts to resemble an on-line version of a tree full of birds making a lot of short noises. When you look at the big picture, and look at what the current top tweets are, it becomes a powerful tool to track trends and to find out what's going on in the world. Twitter also supports tags and groups, which provides more functionality in terms of tracking tweets and finding other users.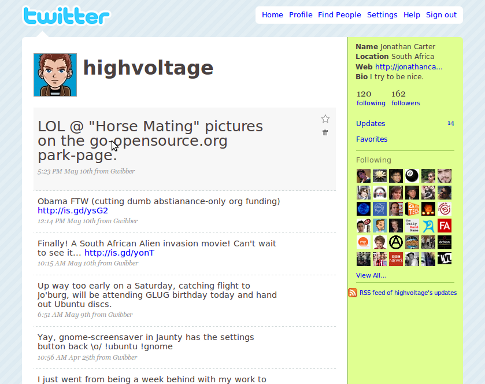 Twitter became imensely popular, and it's one of the biggest social networking sites on the Internet today. Following its success is Laconica, which is completely open source microblogging platform software. The first major site to implement a Laconi.ca site is Identi.ca. Initially, users called their messages "tweets" just like you do in Twitter, but then some clever users started to call their messages dents, they also often say "I dent!" when someone makes a Twitter reference (where "I dent" is the first 5 letters of identi.ca). Identi.ca is probably the most popular Laconica driven service currently, and it's widely used by free software advocates.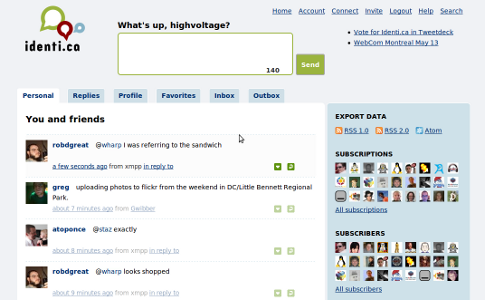 Karl Fischer has set up another Laconi.ca service specifically for FLOSS (ugh I hate that term) professionals called floss.pro, which provides more focus than Identica.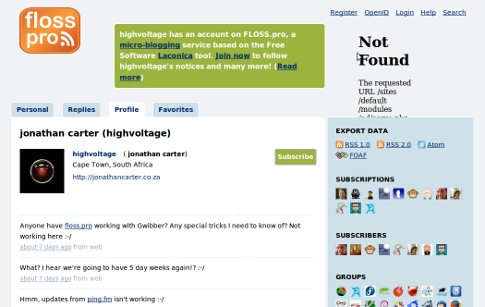 Other South Africans have also jumped on the bandwagon, the guys at Afrigator have written their own microblogging service called Gatorpeeps. I joined today and tried it out, I think it's quite well done comparing it to Twitter and considering that it's still such a new service.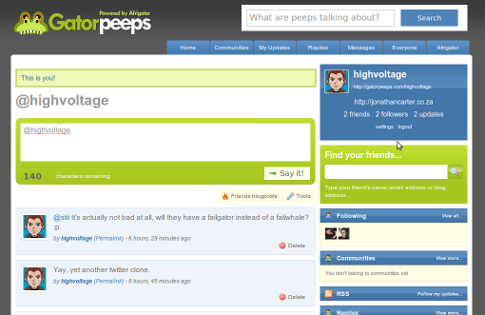 That's basically the microblogging sites I have accounts on. It would be daunting to update all of them individually, so I use a service called Ping.fm to send the updates to all my microblogging sites. It's handy when I'm at someone elses computer or a public computer and I want to send a quick update out to all my services.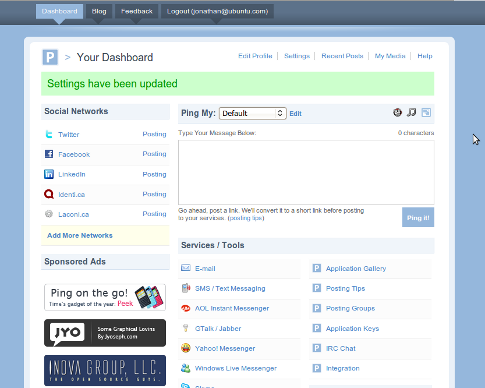 When I'm using one of my own computers, I run a tool called Gwibber, which fetches the updates from the people I follow, and when I post my updates in Gwibber, it gets syndicated my update to all the tools I use that supports status updates.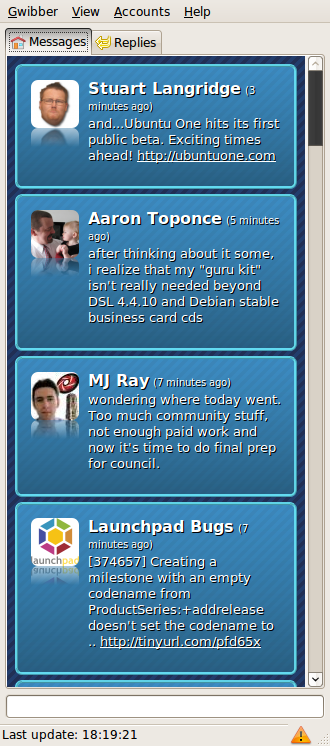 In Facebook, I have the Identi.ca application installed, so when Gwibber posts an update to Identi.ca, the application posts it to my Facebook status as well, and that's where "jonathan dented:" comes from. I hope that clears it up :)
People also do all other kind of things with microblogging. Some people even connect things like washing machines to twitter and let them tweet when they're done with their jobs: http://www.engadget.com/2009/01/03/washing-machine-hacked-to-tweet-when-the-loads-done-maytag-y/
One person has even managed to tweet his way out of jail: http://www.cnn.com/2008/TECH/04/25/twitter.buck/
Many people are sceptical about microblogging, but as the concept matures, the value and the applications become more apparent.