Sun Microsystems Talk on Office Migration
GLUG hosted a talk tonight by Michael E. Bohn from Sun Microsystems on OpenOffice.org migration.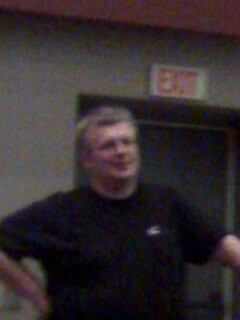 Blurry Phone Pic
Michael is a German working in South Africa assisting local government with ODF migration, he's been involved with OpenOffice.org since the early StarOffice days.
Document Complexity Checklist
He talked about:
Challenges he's facing in migrating to OpenOffice.org
Benefits of OpenOffice.org over MS Office
Things that MS Office still does better
Migration strategies
Document freedom and how important it is to own your data
Soft issues around migration, change management
OOo's superior database support
Easter eggs in OpenOffice.org
Plugins for OpenOffice.org (the presenter console looks quite nice)
I asked him about Java and how Sun committed to release it all under a free license two years ago, and whether the aquisition of Oracle would have any effect on that project. He said that unfortunately, if anything, it would make that process slower. Not a big surprise, but I wish Sun could've done more to get more of it out there before the aquisition.
I asked him whether OpenOffice.org would be more open to accepting patches from the community under Oracle. Sun has kept control over OpenOffice.org quite tight over the years which have resulted in a number of forks. He said that 93% of OpenOffice.org is developed in Hamburg and that he doesn't think that that will change because of the Oracle buy-out.
Overall I think the talk was very good. I learned a few things about OpenOffice.org, and I'm glad that GLUG is hosting talks now, it's been much needed in the Gauteng free software community.