Geekdinner last night
Last night we had a very enjoyable Geek dinner. Not much left for me to say, I think nbm sums up everything quite nicely. What I will say, is that Antoinne has one of the best evil laughs I've ever heard. I grinned a few times today just thinking about it.
More details available from the Geekdinner Wiki and Planet.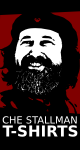 PS: Some people asked where I got my RMS Che t-shirt from, you can get it from the geekz.co.uk website, same site where you get your regular dose of ELER ;)