How do you find new music?
Losing Touch
In a few months I'll be turning 29. That's old. I don't care though, I like growing older. I don't want to be back in school without money to buy new computers, etc. If you're doing things right, things should generally get better as you get older, in my opinion. But growing older sometimes makes it harder to stay current with how things work. Last week I put a new MP3 disc together to listen to in my car and realised that it's pretty much the same stuff I've been listening too… forever. I also realised that besides the same old stuff they play on the radio, I don't really know any new music or artists from 2010. How did this happen? Having seen so many people grow more stale and clueless as they get older, I promised myself that it would never happen to me. I decided to do some investigation.
Last.fm
This is the first site I turned to. I'm not a very active user on the site, but I know it has a big community and lots of people scrobble their songs to it. They have a top 40 of most scrobbled artists of 2010. Out of that top 40 list I only know 12 or so of the artists well or well enough to recognise them, and around 7 of them I either have just heard of or know that I don't particularly like them. That means that that I know less than half of the music that people have been listening to this year. Eek. I went ahead and downloaded the latest albums I've never heard of via bittorrent. If I'll like it I'll go buy the album, if not I'll just delete it. That's how I roll, deal with it you stupid Americans.
Last.fm playground also has a list of the most unwanted scrobbles for the year. It was amusing to see how dominated it is by Lady Gaga. I don't mind her though, while I admit that she is often over the top, I'm not afraid to say that I listen to her and enjoy some of her music. She's one of the few artists today not ashamed to fly the freak flag and she has some very good ideas.
The playground also has a chart that lists whether the music you're listening to is closer to what males or females would typically listen to and the age range that you fall into. This isn't entirely accurate since I haven't been scrobbling all my devices (some, like my car CD player, doesn't have the capability). My results lean to the male side (shew that's close), I was quite surprised that The Beatles, Good Charlotte and Panic! At The Disco and Violent Femmes have more female listeners, but that's not at all a bad thing and I'm not complaining. My scrobbled music puts me in an age group of around 22 years old and I'm ok with that. The chart range is from 22-30, I guess you also have to take the average last.fm user age into account.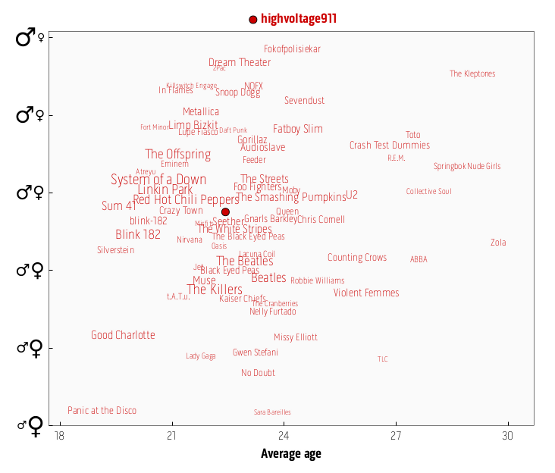 There are many tools available on that site, some more useful than others. I'll certainly be making more use of Last.fm in the future. It might be interesting being able to compare my musical tastes with past versions of myself as I get older.
And then?
Well, I already found more music that I could listen to over the next 2-3 months, and have looked at a bunch of blog posts with titles such as "Top 25 Albums of 2010", etc to see if there's something that I missed, but the problem with those kind of lists are that they usually just list all the stuff that's being over-marketed and played on every radio station anyway. That's also not a great way to get to know music, because you'll only discover artists way after they've become popular. Nothing wrong with being on the trailing edge though, it's just not where I want to be, and besides, I want to get to know a lot of lesser-know artists that are really good too.
So if anyone's reading this and have some tips that they can share, please do so!