Edubuntu Karmic Alpha 6 is Real
Yes, it's true! There is indeed an alpha 6 image for Edubuntu 9.10 (Karmic Koala)! This is the first ever working installation DVD image for Edubuntu. In the beginning, Edubuntu was released on a single CD that shared 95%+ of its content with the Ubuntu CD image. To make more space available for educational packages, it was later changed to an add-on CD that simply installed on top of your choice of Ubuntu. Our users hated it, so we've now changed over to a DVD that should offer the best of both worlds. The only drawbacks will be a larger download, and a requirement for a DVD writer drive- not such a big deal these days.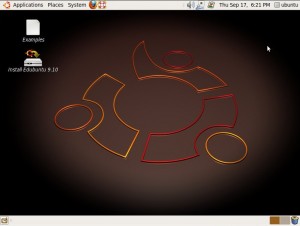 I did testing for the i386 Alpha release yesterday, you can find the results here: https://lists.ubuntu.com/archives/edubuntu-devel/2009-September/003057.html
Unfortunately, I couldn't download the AMD64 daily build in time, so there's no Edubuntu Karmic Alpha 6 AMD64 image. I'm not sure if this means that we won't be able to have an AMD64 release for Karmic at all, but I'll be syncing my daily builds automatically from now on so I'll be able to test builds quicker from now on. We'll certainly need testers again soon for the beta release (testing 1 October) and release candidate release (testing 25 October). If you're interested in helping out, please join our mailing list and introduce yourself.