FSF 2008 Fundraiser
New Targets
Previously I blogged about the FSF 2007 Fundraiser and some of the cool things you get when you register as a member. The first time they did this, they recruited 300 new members, the second time 500 and now, the target is 800 new members.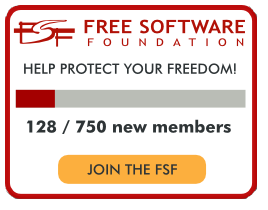 Why join the FSF?
The Free Software Foundation's primary source of income is donations. The Free Software Foundation has played a big part over the years to improve our accessibility to software and protect the rights of developers and users alike. Their high-priority projects have included:
Donations start from US$10 a month, and US$5 if you're a student. It doesn't sound like too much, but when enough members commit it goes a long way to help improving the FSF and what they can provide to us as free software users.
If you do sign up, please use my referer URL by clicking on the image above or on this link, they have a referrer program where they track how many members existing members have recruited. I had 5 which I thought was very little, but it gives me a #3 position currently on the referrers list. Richard Johnson, who is also an Ubuntero is also doing quite well on the list.
Some people often ask whether the Free Software Foundation is still relevant in a world where Free Software is already so abundant. Many people have (or have tried to) circumvented the practical benefits of free software by using Tivoization-like methods or by using Software Patents. I believe that the free software foundation is as relevant as ever and I will support them in what ever way I can.