Political Tendencies
The Stereotype
Recently, Jordan Mantha blogged about being excited about Palin joining McCain's campaign. Some of the comments were quite harsh, some even suggesting that it's wrong to support the Republicans, being a free software developer and affiated with the Ubuntu project. I will admit that I was quite surprised to see his support for the McCain myself- from the vast majority of posts I've seen on Planet Ubuntu, Planet Debian and Planet Gnome so far, most free software supporters seem to support Obama and the Democratic party. Being a supporter of free software (or Ubuntu) shouldn't imply what kind of political tendencies you have. Statistics might show that most free software supporters might choose something, that doesn't mean that everyone has to.
The Political Compass
In CLUG, many of the people in our IRC channel participated in the Political Compass test. It asks you a series of questions and then gives you co-ordinates on where you stand politically. Michael Gorven put together a Python script that takes the results from Spinach (our channel bot) and plots it on a graph using Gnuplot: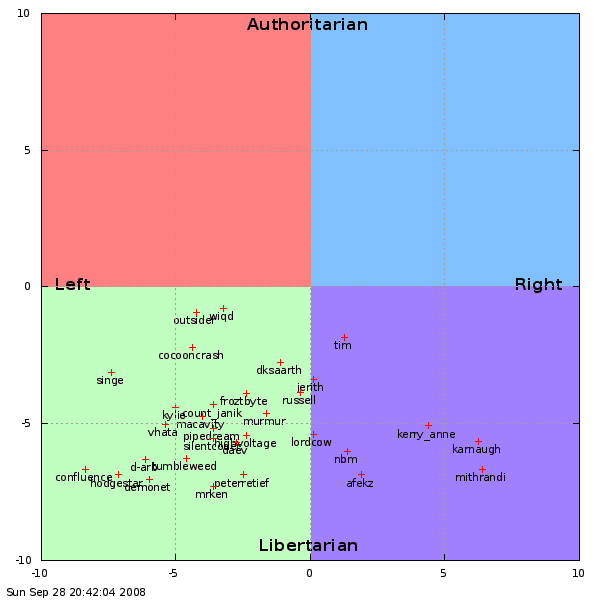 In the graph above, it's clear that everyone in our LUG that participated landed in the Libertarian quadrants, and not a single person in the Authoritarian quadrants. Most people are in the Left-wing Libertarian quadrant, with quite a few in the Right-wing Libertarian quadrant. In this case, the graph supports the stereotype that free software supporters may be more inclined to be left-wing libertarians. There are other things that this graph doesn't bring into account though. Everyone in our IRC channel are also South Africans. Could that perhaps have an effect on our choices and tendencies? We also discuss *everything* on our IRC channel, and we mostly read each other's blogs. Could it also be that we shape each other's political views, if only we sway it by the tiniest bit on a continuous basis?
I think it's natural of humans to make assumptions about other people and the world around them. I think it's wrong of people to take offence when these assumptions and generalisations do not fit into their little view of the world. While we're not all unique little snowflakes, we are all different, and tolerance and acceptance goes a long, long way.
See also:
Other Cluggers who have blogged on the political compass: