Fun and Debian
Brief background
When I started working on my DPL platform, I read through some platforms of recent years. Many of them made some mention of either making Debian a more fun project to contribute to, or keeping it so, even to the point where it has been considered a cliché. Recently, Lucas Nussbaum (DPL between 2013 and 2015), posted a list of DPL roles as he sees it, listing "Keep Debian fun and functional" as responsibility #0, so we know that it's generally expected from the DPL to help make Debian a good project to be part of and contribute to.
In Marga's platform that I linked above, she delves into what exactly "more fun" would mean. Oddly enough, few platforms which mentions 'making Debian fun' as a goal actually do that, which is also why I chose to be more specific in my platform about changes that I'd like to promote instead of just using a blanket term such as "make Debian more fun".
Keeping employees engaged
The image below has been making rounds on the Internet for a long time, I couldn't find it's original source, but I think it's still a great high-level summary of things that a company should keep in mind to keep their employees engaged and maintain a good relationship.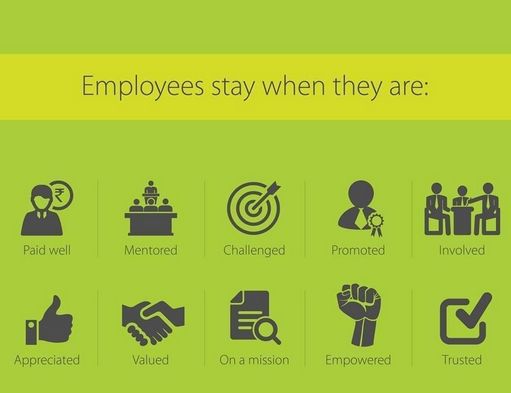 If you're having trouble reading that, it says:
Employees stay engaged when they are:
Paid well
Mentored
Challenged
Promoted
Involved
Appreciated
Valued
On a Mission
Empowered
Trusted
Plenty of other platforms touched on some of these over the years. So I wondered… what would an ideal "Debian contributors stay when…" infographic look like?
Keeping and making fun in Debian
What's great about the average Debian contributor is that they already want to be part of Debian. We don't have to spend as much time as a commercial company does to incentivise a person to be part of the project. So I think in many ways, keeping Debian fun mostly involves removing bad obstacles/blockers and allowing a contributor to do their work with the least amount of friction. Having said that, I also believe that there is scope for making fun, that is, actively doing things that are enjoyable and that may attract more contributors.
Originally, I was going to write a loooooooooooooong piece on this and then make a graphic based on it, and around an hour in to it, around half way done, I realised it's just going to be way too long and abandoned it in favour of going straight to the graphic.
So here goes, I call it version 0.0 of a Debian Fun Statement.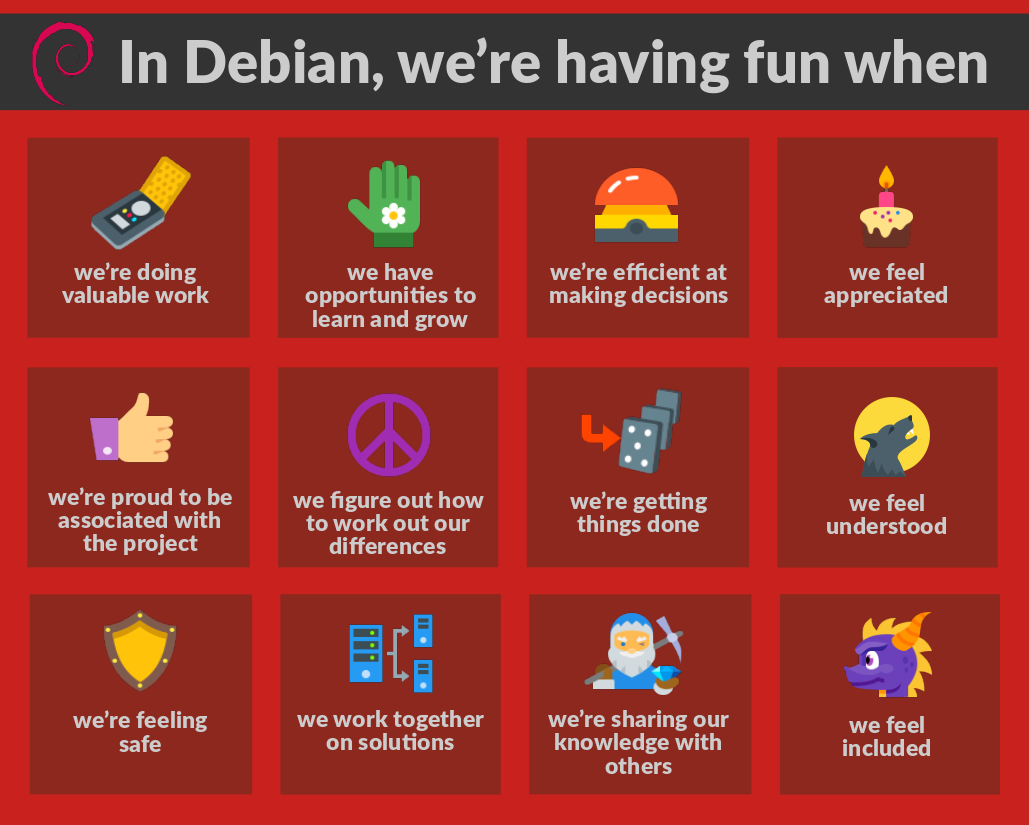 If you read DPL platforms this year and previous years, you'll certainly recognise some elements from it. It reads:
In Debian, we're having fun when:
we're doing valuable work
we're proud to be associated with the project
we're feeling safe
we have opportunities to learn and grow
we figure out how to work out our differences
we work together on solutions
we're efficient at making decisions
we're getting things done
we're sharing our knowledge with others
we feel appreciated
we feel understood
we feel included
I referred to it as a Debian Fun Statement and not the Debian Fun Statement, because I hastily put it together myself, it's not official in any way at all. I think it might be worth while for us as a community to put together some nice final wording and for someone with graphic skills to do some nice layout/artwork.
As part of my campaign running for DPL, I want to let Debianites know that I plan towards making all of the above count for every Debian contributor. I tried to encode that as much as possible in to my platform, and hope that it comes across that way when you read it. Feedback is always welcome, thanks for reading!